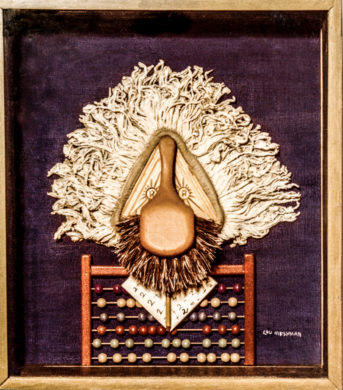 Artist of Wit in a World of Waste
Louis "Lou" Hirshman, one of the unheralded artists of the 20th Century, was a witty – and serious – caricaturist of the famous and collagist of everyday life. He was born in 1905 in the part of Russia that is now Ukraine. From his mid-twenties until his death in 1986 in Philadelphia, Pennsylvania, he was a master in translating the forms of the functional into the forms of the familiar by turning waste, throwaways and "invisible" found objects into fine art. His "constructions" – three-dimensional "junk" in relief, framed on two-dimensional substrates – satirized the well-known from Harpo to Hitler and Kennedy to Castro, as well as capturing everything from wild beasts to wild fantasies. This website is dedicated to remembering Hirshman's work as an artist who saw the world in shape of things.

To learn more about Lou Hirshman, visit his Wikipedia page and his stories blog. You can also join the Lou Hirshman group on Facebook.
William P. Hirshman reserves the right to portray the likeness of the work of Louis P. Hirshman on this website.