Uncategorized

What would Hitler, Groucho, Kennedy and Castro say about Donald Trump?
Read the full story...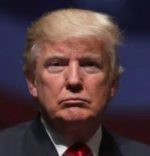 Would Lou Hirshman, were he still alive today, have ever done a caricature of Donald J. Trump? The answer is no. For at least three reasons. 1) Too easy: Although the 45th president of the US is (or was?) ripe for caricaturizing, Hirshman would undoubtedly have already considered Trump a caricature of himself – artificially […]
Read the full story...